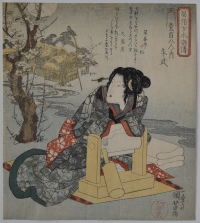 Click here to view image full size.
A surimono from a series: Fuzoku onna Suikoden hyakuhachiban no uchi, "Modern Women as the One Hundred and Eight Heroes of the Suikoden." Shows a beauty leaning on a fulling block beside a stream. She gazes at a flowering cherry tree with a village in the distance beneath a full moon. Each design is based on one of the characters from the Suikoden; in this case Shinkigunshi Shubu (Zhu Wu), the "Resourceful Strategist." The series was inspired by a new translation of the 12th century Chinese novel Shui huchuan, "All Men are Brothers" which relates the deeds of a group of outlaws. Commissioned by the Hisakatayaren Club for the New Dragon Year 1832. Surimono were usually issued by these poetry clubs or for specific occasions, although individuals also commissioned them. They could employ every artifice available to the printers and engravers: metal powders, mica, blind-printing and burnishing, and were printed on the best, thick hosho. They were not issued in large numbers as conventional Ukiyo-e and are usually of a smaller format. Presumably ambitiously planned as 108 prints but never completed. Rare.
Very fine impression and colour with silver and gold. Slightly trimmed top and bottom, otherwise very god condition. Signed Ichiyusai Kuniyoshi ga with the red seal of the printer Suriko Shinzo (which is removed on some impressions).
Status: Sold