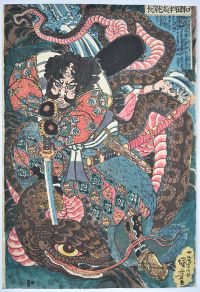 Click here to view image full size.
Wada Heita Tanenaga (1182-1213) battling a giant python (uwabami) near a waterfall.He was a renowned archer and retainer of Minamoto no Yoriie. Various stories tell how he came across the python in a cave or saved a village from its carnivorous attacks. A popular subject that gave rise to some excellent designs by Kuniyoshi and his pupils. From an untitled early set published by Yamaguchiya Tobei, c 1834-5. Robinson S1c.10.
Fine impression and colour.Slightly trimmed at top, otherwise very good condition. Signed Ichiyusai Kuniyoshi ga.
Status: Sold