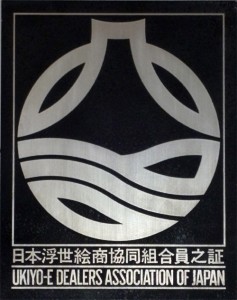 Richard Kruml started dealing in Japanese prints, paintings and books in 1968 after studying architecture and then being a professional photographer for a number of years. He was the first dealer to hold exhibitions and issue catalogues on surimono and also the first to issue a Kuniyoshi catalogue. From early on he has tried to only offer the best available and has augmented leading collections, both public and private.
Please make contact if you are interested in purchasing any items. Prices are not displayed as they can vary depending upon the time of sale. Desiderata lists welcomed; collections or individual items purchased. Please email us if you would like to join our mailing list. Business by appointment only. Overseas customers are exempt from VAT. Prices will not include VAT which is charged at the current rate unless proof of export is obtained.

Further Notes:
It can be assumed all prints are oban size (14.75 X 9.5 inches; 37.5 X 24 cms) or multiples thereof unless specified otherwise.
All images shown are digital photographs of the actual prints, thus, due to individual monitor colour displays, images viewed on the website may vary slightly in colour, shade and contrast from the actual prints.
All Drawings are sold "as is". No attempt is made to catalogue condition (unlike prints) as they are ephemera and have survived either by accident or because they have been saved by pupils. Hence damaged areas are inherent and must be accepted.