/category/highlights/
The Aoigaoka [waterfall] in Edo: Toto Aoigaoka no taki from a set of eight prints with title, Shokoku taki meguri, "A Journey to the Waterfalls of All the Provinces." A majestic set with a mostly beautiful unifying colour scheme: There is probably no other Hokusai set that has the same impact when viewed complete. Amongst Hokusai's finest work and much sought after. There are numerous Hiroshige designs based on the same location but they are prosaic in comparison. Eisen, inspired by Hokusai, also produced a set of waterfalls in 1847 which are themselves fine and rare. This particular fall is in fact a spillway for the Tameike reservoir seen above. Aoi Hill near Toranomon Gate to the left. The set published by Eijudo, c. 1832. Rare.
Fine impression. Fine, unfaded colour. Minimal soil and slight trimming on left: These designs are martyrs to trimming and many illustrated examples are trimmed, otherwise very good condition. (This raises an interesting problem because most Hokusai landscapes do not have a black border – contrary to Hiroshige's – which do, making it easy to judge the trimming on the latter.) Signed Zen Hokusai Iitsu hitsu.
Status: Available

Click here to view image full size.
A triptych showing a street thronged with people in front of the famous department store Iwaki Masuya, giving a good cross-section of the inhabitants of the city at this time. The store specialised in silk and textiles and was one of the most important in Edo having, at one point, 500 employees in its stores. Hiroshige designed another triptych of this subject in c. 1850.
Published by Mikawaya Seiemon, c. 1815. Rare.
Fine impression. Extremely fine fresh colour. Fine condition. Full size. Signed Kikukawa Eizan fude.
Status: Available
A fine chuban from a series parodying the Seven Gods of Good Fortune, this being Daikoku, the god of wealth, seen here attempting to stand on one of his straw bales of rice. The famous waitress Kasamori O-sen (1751-1827) stands holding a battledore on New Year's Day while her companion balances on Daikoku's shoulders attempting to retrieve the shuttlecock caught in the kado-matsu decorations using her own battledore. The lantern on the right reads Kagi-ya, which was a tea-house located by the Kasamori Inari Shrine in Yanaka, north of Edo, which was owned by O-sen's father and where she was the waitress. Considered to be one of "The Three Beauties" of her time. (Given the date of the print, she must have been around 18 when shown here.) The Torii gate is seen on the left. The poem above speaks of a New Year's fresh gem [O-Sen] and how the trees and grasses bend to her. Published c. 1769.
Fine impression: As with many Harunobu, the lines are in relief because of the thick hosho. Exceptional colour: Even the vegetable blue used for the paving stones leading to the temple have not turned except at the extreme left and right. This was a colour used frequently by Harunobu to depict water but is almost always faded to a puce colour. Minimal soil, otherwise a fine example from this period. Signed Harunobu ga.
Status: Available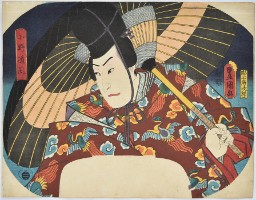 Click here to view image full size.
An uncut fan print showing the actor Sawamura Chojuro V as Ono no Tofu (aka Ono no Michikaze) in the play Ono no Tofu aoyagi suzuri performed at the Ichimura-za Theatre, 3/1850. Shows the character holding a large umbrella. Published by Ibaya Senzaburo, 1850 (who seems to have specialised in fans).
Extremely fine impression and colour with extensive burnishing. Minimal soil at bottom, otherwise fine condition. Signed Toyokuni ga.
Status: Available
The priest Mongaku Shonin doing thirty-seven days penance under the freezing Nachi waterfall near Kyoto. He is helped by Fudo Myo-o's two attendants Seitaka and Kongara seen here top right. This act of self-mortification is because he accidentally killed his beloved cousin Kesa. Published by Uoya Eikichi, 1860. A fine design.
Superb impression of the first state with splashed gofun over Mongaku's head. Fine colour. Lightly backed and imperceptible centrefold, otherwise fine condition. Signed Chooro Kuniyoshi ga.
Status: Available
An original painting by Eizan who was the leading exponent of bijinga in the early 1800s producing many fine oban, triptych and shunga designs. He founded the Kikukawa School. Surprisingly, given his output of prints, his paintings are rare. This beautiful example, full colour on silk, 35 x 14.5 in; 88.9 x 36.8 cms, shows a courtesan reading a letter. Her sumptuous clothes are restrained in pattern and colour before the excesses of later years and other artists. Another example, not as fine as offered here, is in the Tokyo National Museum and is illustrated in their catalogue Ukiyo-e Painting Exhibition, 1993, no. 72, p. 64. The British Museum has a very slight painting of a beauty by Eizan illustrated in Ukiyo-e Paintings in the British Museum, Timothy Clark, Smithsonian Institution, 1992, no. 148, p. 195. One other fine example is illustrated in Masterpieces of ukiyo-e paintings from the Weston collection, various authors, 2015, no. 106, p. 161. Painted c. 1815-25. Signed Kikukawa Eizan hitsu with seals Kikukawa and Toshinobu. In very good condition having been recently remounted.
Status: Available
Shows Hido Hachiro holding the decapitated head of an enemy from Honcho buyu kagami, "Mirror of our Country's Military Elegance." Yoshiyuki was a pupil of Yoshiume and designed the set A Hundred Views of Osaka. He moved to Tokyo in 1868. Published by Tsutaya, c 1868. Rare: The first time I have catalogued this set.
Fine impression, colour and condition. Signed Yoshiyuki ga.
Status: Available
Shoki appearing in the Chinese emperor Ming Huang's dream and cleansing him of a fever demon. From the set Shinkei sanjurokkaisen, "New Forms of Thirty-Six Ghosts." The set published by Sasaki Toyokichi, 1889 – 1892 (this being 1890).
Very fine first edition, fine colour and condition. Signed Yoshitoshi.
Status: Available