/category/highlights/
The Aoigaoka [waterfall] in Edo: Toto Aoigaoka no taki from a set of eight prints with title, Shokoku taki meguri, "A Journey to the Waterfalls of All the Provinces." A majestic set with a mostly beautiful unifying colour scheme: There is probably no other Hokusai set that has the same impact when viewed complete. Amongst Hokusai's finest work and much sought after. There are numerous Hiroshige designs based on the same location but they are prosaic in comparison. Eisen, inspired by Hokusai, also produced a set of waterfalls in 1847 which are themselves fine and rare. This particular fall is in fact a spillway for the Tameike reservoir seen above. Aoi Hill near Toranomon Gate to the left. The set published by Eijudo, c. 1832. Rare.
Fine impression. Fine, unfaded colour. Minimal soil and slight trimming on left: These designs are martyrs to trimming and many illustrated examples are trimmed, otherwise very good condition. (This raises an interesting problem because most Hokusai landscapes do not have a black border – contrary to Hiroshige's – which do, making it easy to judge the trimming on the latter.) Signed Zen Hokusai Iitsu hitsu.
Status: Available
A benigirai-e (red-avoiding) triptych showing from right to left: A young nobleman with a falcon, a beauty beside him holding his sword and another seated smoking a pipe; the centre panel shows two women and a child holding a small falcon; while the last sheet has two women selecting eggplants from the baskets of an eggplant seller. The backdrop for the whole scene is a majestic Mt. Fuji. The combination of Fuji, falcon and eggplant is known as Ichi-Fuji, Ni-Taka, San-Nasubi (1-Fuji, 2-Falcon, 3-Eggplant) and it is supposed to be good luck to dream of these three in the first dream of the New Year (or, in fact, on the second night, the first being sleepless. The following day is known as hatsuyume). Extremely rare: the only impression I can find is illustrated in Kiyoshi Shibui, Ukiyoe zuten, No. 13, Utamaro, p. 37. (The date given here is 1801, although the late 1790s might be more appropriate as the vogue for benigirai-e [probably as a response to sumptuary edicts] was prevalent around the 1790s.) Published by Murataya Jirobei of Eiyudo. Another triptych by Utamaro of this subject is illustrated in Yoshida, Utamaro zenshu, p. 156. A very fine design.
Fine impression. Extremely good colour: these pigments are very susceptible to any light or moisture. Extremely good condition.Signed Utamaro hitsu.
Status: Available

Click here to view image full size.
A triptych representing Matsukaze, "The Wind in the Pines," Chapter XVIII, from a set of triptychs Furyu yatsushi Genji, "Genji in Modern Dress." Brandt, Hosoda Eishi, Stuttgart, 1977, lists nine from the series (this being no. 58, p. 116, illustrated p. 16). Based on the famous early 11th century novel Genji Monogatari written by Murasaki Shikibu. Shows court ladies, one playing a koto on the engawa far right, others welcoming the arrival of Prince Genji, far left. Published by Senichi, c. 1792. Provenance: Ex Worcester Art Museum and Louis W. Black collections, sold Sothebys N.Y., 4/3/1976, lot 122.
Extremely fine impression and perfect unfaded colours. Album backing, otherwise fine condition. Signed Eishi ga (with a small sumi insertion to read Eisui).
Status: Available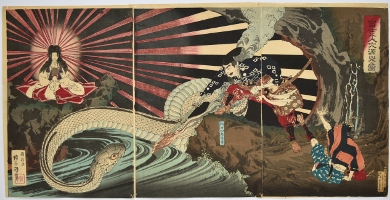 Click here to view image full size.
A triptych showing Nitta no Shiro Tadatsune encountering the Goddess of Mount Fuji and her dragon in a cave on Mt. Fuji. (Bodhisattva Kannon [Buddhist]; spirit of Mt. Fuji [Shinto].) Tadatsune's comrades were afraid to enter the cave and the Goddess commends him on his bravery. Published by Inoue Mohei, 1885. A little known pupil of Yoshitoshi who recognised him as a pupil and named him Toshinobu, which he kept until he died. A wonderful design.
Fine impression and colour. Minor pin holes at corners and slight centre folds, but otherwise very good condition. Signed Utagawa Kuniume aratame Shusai Kuni… (?) changing his name to a Kuni but unread. This must have been a short-lived change as the name is not recorded.
Status: Available
An original painting showing the back view of a courtesan and her assistant. The poem is by Shokusanjin:
It is all because of you who is blooming,
flowers and the moon in this quarter seem prosperous
Shokusanjin
This appears to have been painted during his Sori period at a banquet held by the geisha house that Hokusai and Shokusanjin attended. In good condition having been recently remounted. Sumi and light colour on paper, 15.25 x 21.5 in; 38.7 x 54.6 cms. Signed Hokusai sekijyo, "Hokusai on this occasion."
Seal unread: This is a seal used by Hokusai during this period as well as in his later years, but has not been deciphered.
Status: Available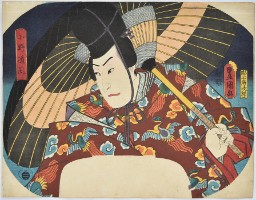 Click here to view image full size.
An uncut fan print showing the actor Sawamura Chojuro V as Ono no Tofu (aka Ono no Michikaze) in the play Ono no Tofu aoyagi suzuri performed at the Ichimura-za Theatre, 3/1850. Shows the character holding a large umbrella. Published by Ibaya Senzaburo, 1850 (who seems to have specialised in fans).
Extremely fine impression and colour with extensive burnishing. Minimal soil at bottom, otherwise fine condition. Signed Toyokuni ga.
Status: Available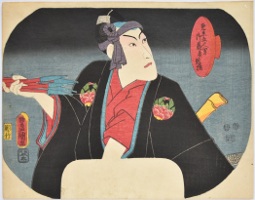 Click here to view image full size.
An uncut fan print showing the actor Ichikawa Danjuro VIII in the role of Hanakawado no Sukeroku from a set: Mitate gonin otoko go-hiiki omoizashi, "A Parody of the Five Chivalrous Commoners, a Cup of Sake from their Fans." Shows the actor holding a number of pipes; a shakuhachi protruding from his back. Published by Yama-Ta, 2ic/1852.
Extremely fine impression and colour. Minimal soil at bottom, otherwise fine condition. Signed Toyokuni ga.
Status: Available