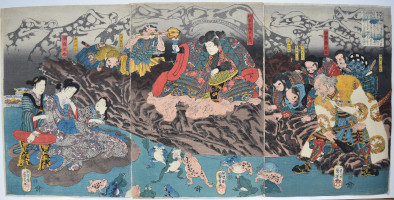 Click here to view image full size.
A triptych showing Shoguntaro Taira Yoshikado (centre), his sister Takiyasha-hime (left), and Yoshikado's retainer, Iga Jutaro, watching magic toads wrestling. Huge toads loom above them. Shogun Taro Yoshikado mikata wo atsumen ga tame etc. Takiyasha-hime was known for her toad magic which she had gained from a scroll containing their secrets given to her by her brother. Published by Tsuru-ya Kiyemon, 1842-3. Robinson T.89.
Fine impression, colour and condition. Signed Ichiyusai and Chooro Kuniyoshi ga.
Status: Available