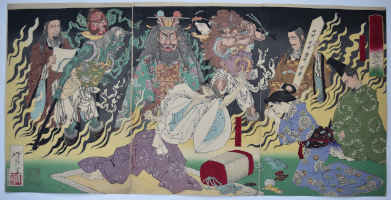 Click here to view image full size.
A triptych Taira Kiyomori hi no yamai no zu, "The Fever of Taira no Kiyomori." Kiyomori's wife, Niidono, dreams that the King of Hell, Ema, is coming for Kiyomori for his crime of burning the Rushana Buddha. His family gather around him and pray but to no avail. He dies on the 4/2/1181. Shows Niidono and her son beside a convulsed Kiyomori. Behind are visions of hell with Ema and figures who may have been Kiyomori's victims. Published by Akiyama Buemon, 1883.
Fine impression, colour and condition. A lovely copy of this triptych. Signed Yoshitoshi ga.
Status: Available