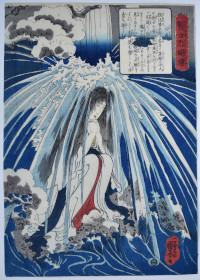 Click here to view image full size.
Shows Hatsuhana's long penance under the Tonozawa waterfall to aid her crippled husband "Hazari" Katsugoro who is intent on revenging his brother's murder. Hatsuhana dies, Katsugoro is cured and kills his arch enemy near the waterfall. From the set Kenjo reppuden, "Stories of Wise and Virtuous Women." Published by Ibaya Sensaburo, 1841-2.
Very fine impression and colour. Several small expertly repaired wormholes, otherwise very good condition. Signed Ichiyusai Kuniyoshi ga.
Status: Sold