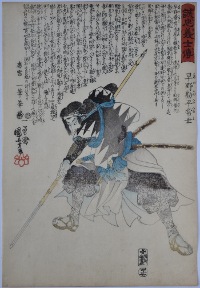 Click here to view image full size.
The ghost of Hayano Kampei Tsuneyo lunging forward with his spear. From the set Seichu gishi den, "Biographies of Loyal and Righteous Samurai" in other words, The forty-Seven Ronin. Published by Ebiya Rinnosuke, c 1847-8. Robinson S53.47.
Very good impression, colour and condition. This design is beautifully printed, the blue and sumi graded off to indicate the ghostly status of Tsuneyo. Signed Ichiyusai Kuniyoshi ga.
Status: Sold