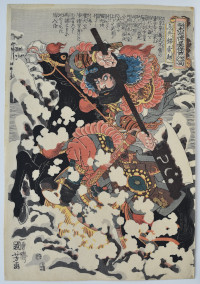 Click here to view image full size.
Kyusempo Sakucho (Chin: Suo Chao) at the battle of Peking from Tsuzoku Suikoden goketsu hyaku-hachi-nin no hitori, "The Hundred and Eight Heroes of the Popular Suikoden, One by One." Based on the Chinese novel Shui Hu Zhuan, attributed to Shi'Nai'an, which tells of a band of 108 brigands who operated from Liangshan Marsh. Shows the warrior wielding a huge axe and plunging through deep snow on his horse. He was renowned for being seven chi tall (just over seven and a half feet) and impetuous in battle, often charging ahead of his men – hence his nickname "Impatient Vanguard." Published by Kaga-ya Kichiyemon, c 1827-30. Provenance: Ex B.W. Robinson collection. Robinson S2.44.
Fine impression, colour and condition. Full size (rare with designs from this set). Signed Ichiyusai Kuniyoshi ga.
Status: Available