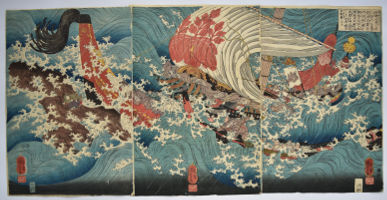 Click here to view image full size.
A triptych Buzen no kuni oki manaita ga se, "The Chopping Block Shoals off the Coast of Buzen Province." Shows the pilot and nobleman Yoshibei leaping to a rock and sacrificing himself to save his ship which was travelling to the capital from Kyushu when it was caught in a violent storm. Published c. 1850 by Mikawaya Tetsugoro. A wonderful and rare triptych.
Fine impression, colour and condition. Signed Ichiyusai Kuniyoshi ga.
Status: Sold