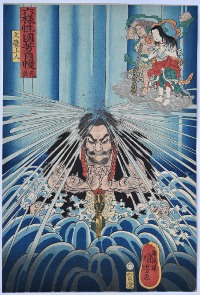 Click here to view image full size.
The priest Mongaku Shonin doing thirty-seven days penance under the freezing Nachi waterfall near Kyoto. He is helped by Fudo Myo-o's two attendants Seitaka and Kongara seen here top right. This act of self-mortification is because he accidentally killed his beloved cousin Kesa. Published by Uoya Eikichi, 1860. A fine design.
Superb impression of the first state with splashed gofun over Mongaku's head. Fine colour. Lightly backed and imperceptible centrefold, otherwise fine condition. Signed Chooro Kuniyoshi ga.
Status: Sold