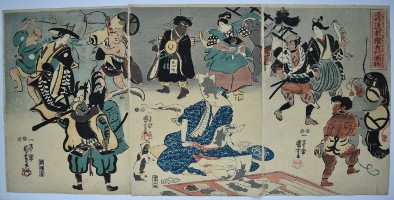 Click here to view image full size.
A triptych showing a figure in the centre painting Otsu-e pictures which float up and materialise as the actual characters. Toki ni Otsu-e kitai no maremono, "Popular Otsu-e Paintings for the Times: A long-awaited Rarity." In fact, this is a self-portrait of Kuniyoshi. He is shown with one of his many cats watching him and his kiri seal fan to his left. Tantalizingly, Kuniyoshi partially covers his face with a painting. There are few images of Kuniyoshi. Published by Minatoya Kohei, c 1848.
Very good impression and colour. Slight crinckling of paper, otherwise very good condition. Signed ichiyusai Kuniyoshi ga.
Status: Sold