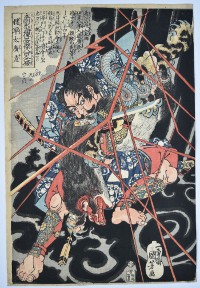 Click here to view image full size.
I no Hayata Hironao killing the nue from a set Honcho Suikoden goyu happyakunin no hitori, "One of the Eight Hundred Heroes of the Water Margin of Japan." In the year 1154 the Emperor Konoe was having trouble sleeping due to weird shrieks and scratchings coming from the roof of his castle. He called for the famed archer Minamoto no Yorimasa (1106-80) to solve the problem. Yorimasa shoots an arrow at a black cloud surrounding the roof and the beast nue falls to earth being finished off by his servant I no Hayata Hironao. The composit creature was said to have the head of a monkey, back of a badger, legs of a tiger, scales of a dragon, and tail of a snake, but accounts vary. Published by Kagaya Kichiemon c 1831. One of the great early designs. Robinson S4a.6. Rare.
Fine impression and colour. In exceptional condition with extra paper on three sides which is extremely unusual. Signed Ichiyusai Kuniyoshi ga.
Status: Sold