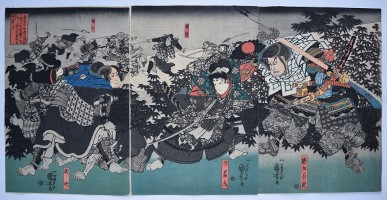 Click here to view image full size.
A night scene illuminated by a band of light from a hand-lantern. Shows Ushiwaka-maru (Yoshitsune) battling with the outlaw priest Kumasada Chohan and his band of thieves who were attempting to rob the inn where Yoshitsune was staying. Published by Ibaya Sensaburo, c. 1839-41. A fine design.
Fine impression, colour and condition. Signed Ichiyusai Kuniyoshi ga.
Status: Sold