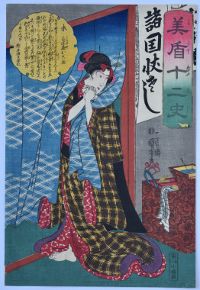 Click here to view image full size.
"Goat" from a set Mitate junishi, "Selection for the Twelve Signs." Shows the beauty Okoma looking through a curtain. Briefly the story relates how she is to be married off to a rich man by her mother but Okoma is in love with another man called Chushichi. A visiting barber cuts Chushichi's hair and concocts a scheme with him to have her kidnaped and for Chushichi to rescue her. Published by Kojima c 1845. Robinson S38.8.
Fine impression, colour and condition. Signed Ichiyusai Kuniyoshi ga.
Status: Sold