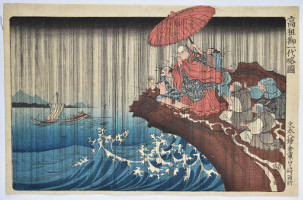 Click here to view image full size.
Nichiren praying for rain from the set Koso goichidai ryakuza, "Illustrated Abridged Biography of the Founder." The set published by Iseya Rihei, c. 1835. The event is supposed to have taken place at the Reizan Promontory, Kamakura in 1271. Bunei hachi Kamakura Reizangasake uki. Nichiren was the founder of the Buddhist Nichiren sect of which Kuniyoshi was a follower. This is the very rare first edition without the break in the black border on the left near the small boat. Another first edition impression is in the Baur Collection, Geneva. See Matthi Forrer, 1994, G366. Most impressions show the break. For example: Kuniyoshi, Juzo Suzuki, 1992, no. 179. There are also variant later impressions with differences in the gradation of the sea and the promontory.
Very fine impression. Fine colour. Imperceptible centre fold and trimming at top, otherwise very good condition. Signed Ichiyusai Kuniyoshi ga.
Status: Sold