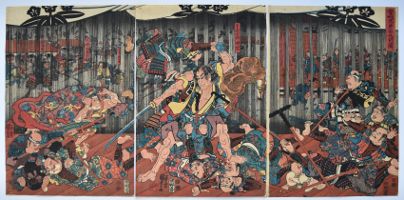 Click here to view image full size.
A triptych showing the night attack in pouring rain by the brothers Juro Soga and Goro Soga on their father's murderer Kudo Suketsune. They had waited 18 years for the opportunity which came in 1193 when there was a hunting party held at the base of Mount Fuji by the Shogun Minamoto no Yoritomo. Soga kyodai chichi no ada-uchi no zu. In the centre is Goro and on the left Juro. Above, the cloth panels with the paulownia crest of the Minamoto clan. Published by Sanoya Kihei, 1851-3.
Fine impression and colour. Slight trimming at top and residual glue at edge of centre sheet, otherwise very good condition. Signed Ichiyusai Kuniyoshi ga.
Status: Available