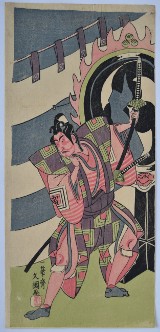 Click here to view image full size.
A hosoban showing the actor Ichikawa Raizo II as Kanesashi Goro Katsuhide in the play Kawaranu hanasakae hachi no ki, "The Ever-Blooming Potted Tree." Performed at the Nakamura-za Theatre in 11/1769. Extremely rare: Another impression is illustrated in an Exhibition of Ukiyo-e by Ippitsusai Buncho, Riccar Art Museum, 1978, no. 40. Their example is annotated on the top left: Meiwa 6 nen, kaomise, Kanesashi Goro, Ichikawa Raizo. The kaomise production was always in the 11th month and was quite literally the "face showing" of actors for the coming season. There are a considerable number of hosobans annotated in the same hand around this time – obviously by an avid theatre goer. Buncho was the pre-eminent designer of hosobans in the second half of the 18th century. He subsequently became a samurai. He was also a painter and, together with Shunsho, produced the fine three volume book Ehon butai ogi of stage actors in 1770.
Superb impression, colour and condition: As the day it was printed. Signed Ippitsusai Buncho ga with seal Mori uji (offset as on the Riccar impression).
Status: Sold