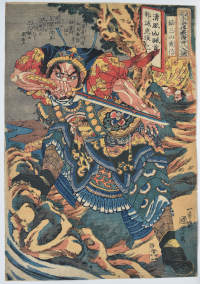 Click here to view image full size.
Shows the warrior Chinsanzan Koshin (Chin: Huang Xin) holding the "Sword of Death." His nickname was the "Guardian of the Three Mountains" because of his boast that he could easily eradicate the bandits from the three mountains in the Qingzhou region. . From the set Tsuzoku Suikoden goketsu hyaku-hachi-nin no hitori, "The Hundred and Eight Heroes of the Popular Suikoden, One by One." Based on the Chinese novel Shui Hu Zhuan, attributed to Shi'Nai'an, which tells of a band of 108 brigands who operated from Liangshan Marsh. Published by Kaga-ya Kichiyemon, c 1827-30. Robinson S2.10.
Fine impression, colour and condition. Full size (rare with designs from this set). Signed Ichiyusai Kuniyoshi ga.
Status: Available