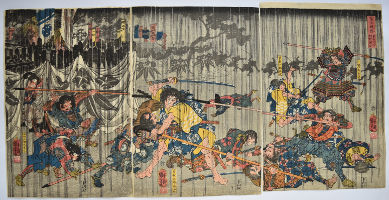 Click here to view image full size.
A triptych Fuji no sono Soga kyodai hommo o togeru zu. "Moor at the Foot of Mt. Fuji: Picture of the Soga Brothers Achieving their Avowed Wish." Soga no Goro Tokimune and Soga no Juro Sukenari avenging the death of their father by killing Kudo Suketsune at his hunting encampment in pouring rain. Juro dies in the battle and Goro is killed later. Published by Yamaguchi Tobei, 1843-7.
Fine impression, colour and condition. Signed Ichiyusai Kuniyoshi ga.
Status: Sold