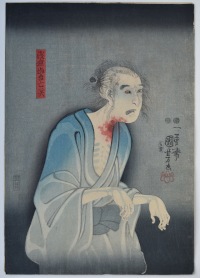 Click here to view image full size.
Ichikawa Kodanji IV as the ghost of Asakura Togo in the play Higashiyama Sakura zoshi, "The Story of Sakura of Higashiyama." Based on historical events in 1653 with the characters' names changed (Asakura Togo was actually Sakura Sogoro). The story tells of a village chief who was forced to witness the beheading of his sons before being crucified by the cruel samurai Lord Hotta Kozuki, after he had protested at the levy of unfair taxes. Sakura's ghost returns to haunt Hotta's castle. In fact the left sheet of a diptych. However, nearly always sold as a single sheet as the other side does not marry up, is undistinguished and was probably sold separately. Published by Sumiyoshi Masagoro, 1851. Beside the signature is the seal shita-uri, "low sale" meaning it was sold "under the counter" due to censorship laws prevalent at the time. This is the very rare first edition with the carver's seal Hori Take, Yokokawa Takejiro, to the right of the publisher's seal on the left. This was removed on later editions. One of the great ghost prints.
Fine impression, colour and condition with gum applied to the eyes (only found on the first edition).Signed Ichiyusai Kuniyoshi ga.
Status: Available