/category/yokohama-and-nagasaki/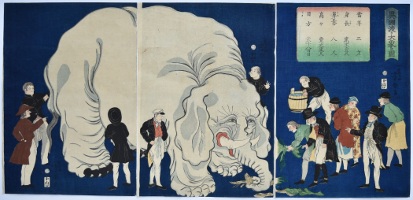 Click here to view image full size.
A triptych showing a large elephant being inspected, watered and fed by foreigners. Ikoku watari taizo no zu. "Picture of a Big Elephant Brought from Overseas." Beside the title in a box are the details of the animal: Three years old this year (1868); length 6 metres 38 cms; length of nose 3 metres 4 cms; tall 3 metres 76 cms; weight 2800 me. Published by Yamaguchiya Tobei. Rare: Not in any of the standard Yokohama books.
Fine impression and colour. Very good condition. Signed Ichibaisai Yoshiharu ga.
Status: Sold
A fine dai oban ( 17.25 x 12.5 in ) print showing a Russian ship in Nagasaki harbour. The Dutch title: Vreemde Groote Schip, "A Large Foreign Ship" top right. An envoy is being rowed ashore in a dinghy accompanied by musicians. The first Russian envoy to Japan, Rezanov, visited in the Nadezhda in 1804. He was imprisoned for several months and asked not to return. Interestingly, two blocks were used to make this print and the join shows on all impressions running up the centre of the boat. One of the best Nagasaki prints and rare.
Very good impression. Fine colour and exceptional condition for such a print.
Status: Sold
A Chinese ship entering the harbour. A rare print published by Yamatoya c1810s. Other impressions illustrated in: Nagasaki Prints And Early Copperplates, Masanobu Hosono, pl.33, p.55 and A Collection Of Nagasaki Colour Prints And Paintings, H.N.Mody, pl.87.
Very good impression, colour and condition.
Status: Sold
A bird's-eye panorama of Nagasaki harbour. These views are the most remarkable of the Bunkindo productions demonstrating linear perspective and, when early impressions as here, showing the use of block and stencil printing. The only illustrated example I have catalogued is in the Tokyo National Museum illustrated in Nagasaki Prints and Early Copperplates, Masanobu Hosono, Kodansha, 1978, pl. 27, p. 51. Ex Prof. Boxer collection (his seal bottom right corner). Large oban: 13 by 17 inches; 33 by 43 cms.
Exceptional impression and condition for this genre of print, with large margins. Fine.
Status: Sold