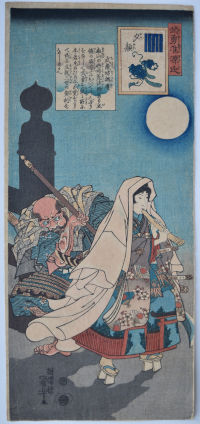 Click here to view image full size.
An o-tanzaku print, Yugao chapter from the fifty-four chapters of Genji, the Genji Monogatari. A tenth century romance written by Murasaki Shikibu. From a set Buyu nazoraye Genji, "Heroic Comparisons for the Chapters of Genji." In this case showing Benkei creeping up on Ushiwaka on Gojo Bridge in Kyoto. The story relates how Benkei only needs one more blade to add to the 999 he has wrenched from samurai attempting to cross the bridge in order to fashion an invincible weapon. Benkei loses the fight and becomes Yoshitsune's loyal retainer. Published by Ibaya Sensaburo, c. 1843.
Fine impression and colour. Very good condition. Signed Cho-o-ro Kuniyoshi ga.
Status: Available