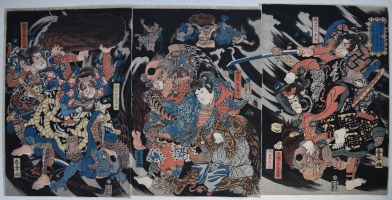 Click here to view image full size.
Minamoto no Yoshinaka Shitenno to tomoni Kiso no okuyama ni Tengu o taiji su, "Minamoto Yoshinaka and His Four Retainers Defeat the Tengu in the Deep Mountains of Kiso." Minamoto no Yoshinaka is seen in the centre panel, Higuchi Kanemitsu on the right holding a sword and Imai Kanehiro on the left panel. Tengu are winged demons or spirits known for their fencing abilities, have long noses or bird-like beaks, and are associated with the ascetic practise of Shugendo and wear the garb of its followers, the Yamabushi. Published by Fujiokaya Hikotaro. Rare: Another impression is in MFA, Boston, accession number 11.21594-6.
Fine impression. Very good colour and condition. Signed Shunsho ga.
Status: Available