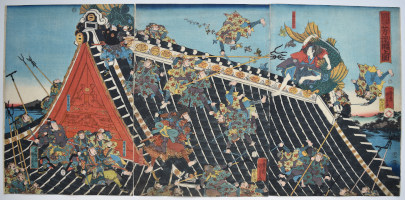 Click here to view image full size.
A triptych showing the fight on the roof of the Horyukaku Tower of Koga Castle beside the Tone River. A popular scene from the complex novel Nanso Satomi Hakkenden, "The Diary of Eight Dogs" by Takizawa Bakin (1767-1848). The macabre tale revolves around the eight offspring of a supernatural marriage between a princess and her father's dog and their commitment to restore the fortunes of the samurai house of Satomi. Shows Inuzuka Shino Moritaka defending himself against the chief of police Inukai Kempachi Nobumichi. Published by Tsutaya Kichizo 1854.
Very good impression, colour and condition. Signed Ichijusai and Baichoro Kunisada ga.
Status: Available