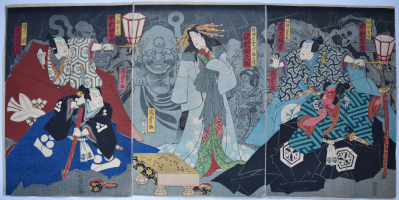 Click here to view image full size.
A triptych showing the actors Nakamura Shikan IV as Sakata Kintoki and Onoe Baiko V as Usui Sadamitsu – both henchmen of Watanabe no Tsuna (Raiko) – on the right; Sawamura Tanosuke III as the courtesan Usugumo (actually the spirit of a spider), centre, and Nakamura Chutaro as Urabe Hidetake – another henchman of Raiko – and Ichikawa Kuzo III as Watanabe no Tsuna on the left. Goblins and skeletons abound in the background. From the play Kubei yoi no itosuji performed at the Morita-za Theatre, 1864. Published by Iseya Kanekichi.
Very good impression, colour and condition. Signed Kunisada ga.
Status: Sold