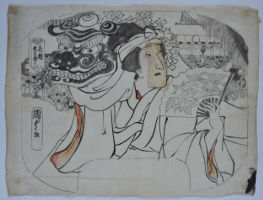 Click here to view image full size.
An original hanshita-e entitled: Hanayagura, Tenno Matsuri. This famous festival takes place in July in Tsushima, Aichi, with boats floating down the Tenno River. Shows a festival participant with a lion mask. Sumi with touches of red on thin paper with pentimenti to face.
In good condition. Signed Kunisada ga.
Status: Sold