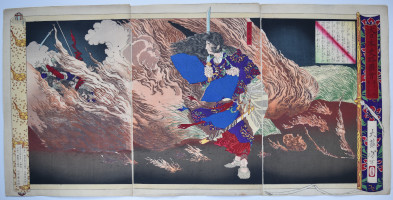 Click here to view image full size.
A triptych from a set of ten: Dai Nippon shiryaku zue, "Short Illustrated History of Great Japan." Each print is in the form of an unrolled makimono. This design shows the third son of the twelfth century Emperor Keiko, Yamato Takeru no mikoto (Wo-usu). His father was constantly sending him on dangerous missions making him suspect that he wished his death. One such journey was to the Emishi in northeast Japan. On complaining about this to his high-priestess aunt, Yamatohime, she gave him the famous sword Ame no murakumo no hoken to aid him. On his arrival, the ruler of the Emishi lured him onto open grassland which he set on fire. Wo-usu used his sword to cut the grass, evade death, and start new fires to kill his enemy. Published by Kobayashi, 1880. A fine design.
Fine impression of first edition. Fine colour. Very slight crease bottom margin of centre sheet, otherwise fine condition. Signed Taiso Yoshitoshi.
Status: Available