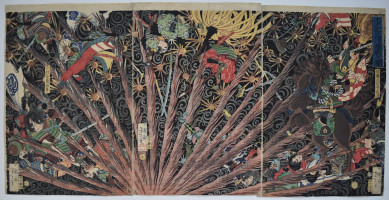 Click here to view image full size.
A triptych showing an exploding land-mine throwing bodies and horses into the ether. Taiheiki Masakiyo nansen no zu, "Masakiyo's Difficult Battle from the Taiheiki." Figures identified in the print are the 14th century warriors Sato Shukei no Kami Masakiyo and Shimura Masazo Katsutoyo, but by way of avoiding censorship, it is actually showing Kato Kiyomasa (1562-1611) and Kimura Matazo Shigekatsu. It may also be that the design alludes to the rogue samurai in Choshu Province during the summer of 1866. Published by Yamashiroya Jinbei, 1866. One of Yoshitoshi's great designs. In fact, this is a reworking of a similar composition in a book early in his career, Ehon jitsugokyo dojikyo yoshu of 1853.
Fine impression and colour. Lovely oxidation of the orange pigment. Fine condition. Signed Ikkaisai Yoshitoshi hitsu.
Status: Available