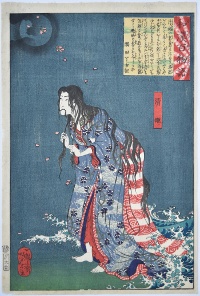 Click here to view image full size.
Shows Kiyohime (Princess Kiyo) who fell passionately in love with the monk Anchin and endeavoured to pursue him across a swollen river to his monastery. Unable to cross she transforms herself into a serpent-like creature to enable her to reach the other side. One of a set of 26 prints with title: Wakan hyaku monogatari, "One Hundred Tales of China and Japan." Published by Daikokuya Kinnosuke, 1865.
Very good impression, colour and condition. Signed Ikkaisai Yoshitoshi ga.
Status: Sold