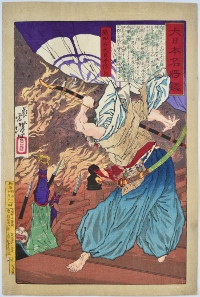 Click here to view image full size.
The famous daimyo Oda Nobunaga throwing an assailant over a terrace while the Honnoji Temple burns behind him. Nobunaga's branch of the Oda clan held control of central Japan but he was eventually killed by his treacherous vassal Akechi Mitsuhide at this temple in 1582. From a set Dai Nippon meisho kagami, "Mirror of Famous Commanders of Great Japan." The series of 51 prints published by Kumagai and Funazu Chujiro, c. 1876 – 82. The design here by the latter in 1878.
Fine impression, colour and condition. Signed Oju Yoshitoshi hitsu.
Status: Sold