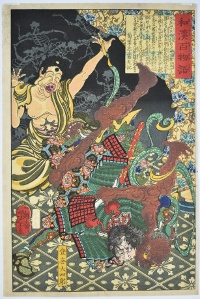 Click here to view image full size.
Toki Daishiro, the retainer of Gamo Ujisato, vanquishing the demons in the temple on Mt. Inohana by grappling with the temple guardian. One of a set of 26 prints with title Wakan hyaku monogatari, "One Hundred Tales of China and Japan." Published by Daikokuya Kinnosuke, 1865. This appears to be the same subject Yoshitoshi used in his set Shinkei sanjurokkaisen but with altered names.
Fine impression, colour and condition. Signed Ikkaisai Yoshitoshi ga.
Status: Sold