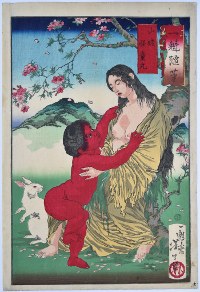 Click here to view image full size.
Yamauba and Kintoki from a set of thirteen prints Ikkai zuihitsu, "A Miscellany by Ikkai," this being an early name of Yoshitoshi's. A strange print in more ways than one: Not only is this his most "Westernized" design, but the impression is a puzzle. There is a thought that the design is based on Raphael's Santa Familia but it could as easily be a Botticelli. Certainly it looks to be after Madonna and child images he has seen. Also, this set has numerous variations in seals. Basically, it seems those with red or black seals in the margin are the earliest. However, this is a fine impression and has no seals. Published by Masadaya Heikichi, 1872.
Fine impression and colour (with Kintoki a deeper red than on other impressions). Very good condition. Signed Ikkaisai Yoshitoshi hitsu.
Status: Sold