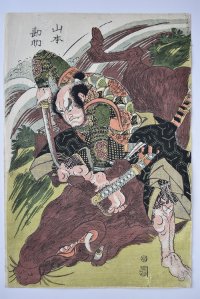 Click here to view image full size.
Yamamoto Kansuke (Haruyuki) (1501-1561) overpowering a gigantic boar. Takeda Shingen's most valuable general and one of the Takeda nijushi-sho, "Takeda's Twenty-four [most trusted] Generals." Kansuke was involved in a lengthy feud with Kenshin Tora and is killed in one of their skirmishes at Kawanakajima on 12 Oct. 1561.
Very good impression, colour and condition. Signed Shuntei ga.
Status: Available

Click here to view image full size.
A woman playing a koto from the set: Hanagasa-ren Shichifukujin, "Seven Women as the Gods of Good Luck for the Hanagasa Club. Each beauty represents a god, presumably in this case Benten. The series may be a parody of the new year tradition of making a pilgrimage to the seven shrines devoted to each of the Seven Gods of Good Luck. The set of eight prints published c 1820.
Fine impression and colour with silver and gold. Light backing, otherwise very good condition. Signed Shokyuko Shuntei ga.
Status: Sold