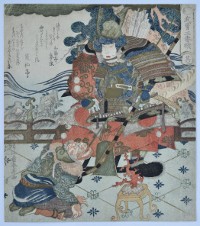 Click here to view image full size.
A surimono, number two, from a set of three entitled Buyu sanban tsuzuki, "Three Examples of Martial Bravery." Shows Minamoto no Tametomo (1139-1170). A famed archer and of huge stature, he is shown here with his bow and arrows being offered a coral tree from a representative of a conquered land. Shuntei, a pupil of Katsukawa Shun'ei, produced a number of surimono as well as working in other genres. Issued for the Taikogawa Poetry Club, c late 1810s. Poems above by Wajotei Harunaga and Kasentei. The other two from the set are in the MFA Boston, 53.2733 (the first) and 53.2735 (the third). Another impression of this design is also in MFA Boston, 53.2734. Ex collection Louis Gonse, seal au verso. Rare.
Fine impression and colour with extensive gold and silver. Fine condition. Signed Shokyuko Shuntei ga.
Status: Sold