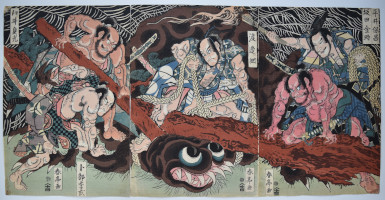 Click here to view image full size.
A triptych showing the killing of the giant Earth Spider in its cave. These Tsuchigumo were a form of spider-like yokai. Minamoto no Yorimitsu's (aka Raiko, 948-1021) retainers (The Four Heavenly Kings) are shown holding the spider down with the trunk of a large tree: Sakata no Kintoki, on first sheet, Watanabe no Tsuna, in the centre, and Urabe no Suetake and Usui Sadamitsu on last sheet (on the left). It is said that when the spider was killed that 1990 dead victims emerged from its stomach. This was a popular story covered by many artists. Published by Enomotoya Kichibei, c. 1808. Rare.
Very good impression and colour. Small backed binding holes, otherwise very good condition. Signed Shuntei ga.
Status: Sold