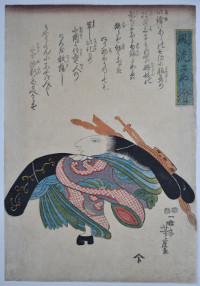 Click here to view image full size.
An oban with title: Furyu saya-e: oiran, "Elegant Sheath-Pictures: Oiran."A catoptric (mirror as opposed to an oblique) anamorphic print showing a parading courtesan. These prints were meant to be viewed in conical or cylindrical mirrors placed at the bottom of the image. The flat distorted image was then seen undistorted. However, in Japan the image was viewed in the curved surface of a sword sheath. Anamorphosis was known in Europe in the early 15th century and also in China during the Ming Dynasty (1368-1644). Published by Enshuya Matabei, c. 1845. Another impression is illustrated in Edo no asobi-e, Shinichi Inagaki, Tokyo Shoseki, 1988, plate 6. Very rare.
Fine impression. Very good colour and condition. Signed Ichimosai Yoshitora ga.
Status: Available
Tags: Available, Social Historical and Ephemera, Utagawa YOSHITORA