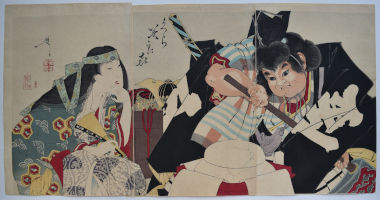 Click here to view image full size.
A triptych showing Yamauba on the left and Kintaro about to wield a large axe to break a large Kaga mimochi, mirror rice cake. This is a traditional Shinto rite in January. January 11th is also the day the wealthy opened their storehouses to air their precious possessions (Kurabiraki). Published by Akiyama Buemon 1891.
Very fine impression with extensive burnishing. Fine colour and condition. Signed Yoshitoshi.
Status: Sold