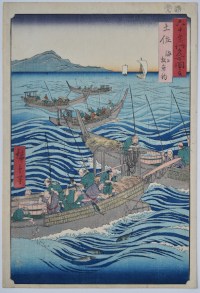 Click here to view image full size.
Tosa, kaijo katsuo tsuri, "Tosa [Province], Bonito Fishing at Sea." Fishermen used fishing rods, rather than nets, to reduce the stress on the fish and maximise taste. Tosa, located on the southern coast of the island of Shikoku, was famous for its bonito. From a set of 69 prints [Dai Nihon] Rokujuyoshi meisho zue, "Famous Places in the Sixty-odd Provinces [of Japan]" published by b Koshimuraya Heisuke between 1853 and 1856, this being 1855.
Very fine impression and colour. Light album backing, otherwise fine condition. Signed Hiroshige ga.
Status: Sold