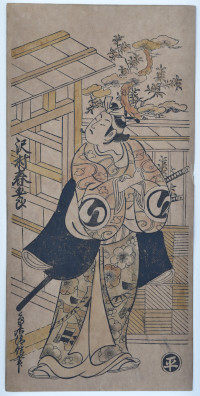 Click here to view image full size.
An early print showing the actor Sawamura Harugoro as Soga no Goro. Another impression is in MFA, Boston, acc. no. 21.5656. Published by Hiranoya Kohachi c early 1740s. Ex collection Dr E.F. (1969). Rare.
Very good impression. Urushi beni-e with signs of hand-colouring (faded) and lacquered sumi. Paper toned and signs of mounting au verso. Signed Torii Kiyonobu hitsu.
Status: Available