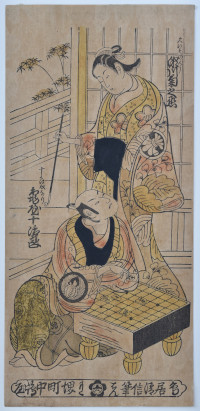 Click here to view image full size.
An early print showing the actor Segawa Kikunojo as Oiso no Tora looking down at Kameya Jujiro as Soga no Juro Sukenari who is leaning on a shogi board (Japanese chess). The play Hatsu hikage maizuru Soga was performed at the Nakamura-za Theatre, 1/1737. Published by Nakajima Izaemon. Ex collection Dr E.F. (1978). Rare.
Fine impression. Urushi beni-e with hand-applied colour: tan, yellow, light beni, gold powder and lacquered sumi over an embossed pattern. Toned with some fading of colour. Signs of mounting au verso. Signed Torii Kiyonobu hitsu.
Status: Sold