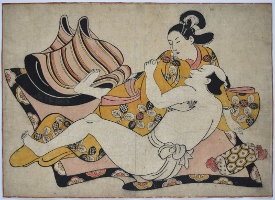 Click here to view image full size.
A sumizuri-e abuna-e sheet from a shunga set published c. late 1710s. MFA has 10 sheets from the set , RES.09.310.1 to .10. They are based on designs by his father, Torii Kiyonobu I.
Fine impression. Fine hand-colouring. Backed (from a scroll), some light soil and minor creasing, all appropriate with date.
Status: Sold