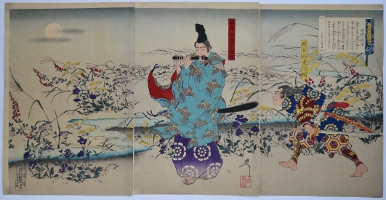 Click here to view image full size.
A triptych entitled Autumn Moon. A famous subject showing the aristocrat Fujiwara no Yasumasa playing his flute on a lonely moor and the bandit Hakamadare Yasusuke creeping up on him. So entranced was Hakamadare by the music that all he could do was to follow Yasumasa home. This is a version of a design published in 1868 with partially new blocks and an uncluttered background. It is regarded as a new design. Published by Katada Chojiro, 1884.
Fine impression and colour. Slight edge soil, otherwise very good condition. Signed Yoshitoshi.
Status: Sold