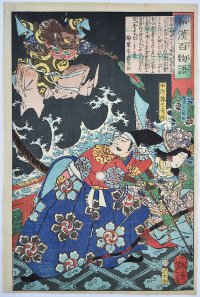 Click here to view image full size.
Shows the samurai Tawara Toda ("Lord of the Ricebag") Hidesato slaying the monstrous centipede Mukade on the request of the Dragon King. Elated the king presents him with a bottomless bag of rice. Behind Hidesato is the centipede's arch-enemy Otohime. One of a set of 26 prints with title: Wakan hyaku monogatari, "One Hundred Tales of China and Japan." Published by Daikokuya Kinnosuke, 1865.
Fine impression with variegated cartouche and mica. Fine colour and condition. Signed Ikkaisai Yoshitoshi ga.
Status: Sold