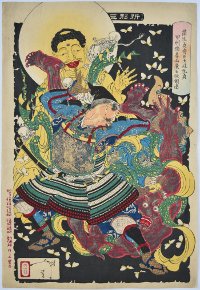 Click here to view image full size.
Toki Motosada, the retainer of Gamo Sadahide, throwing a red temple guardian to the ground and vanquishing the ghosts on Mount Inohana. From the set Shinkei sanjurokkaisen, "New Forms of Thirty-Six Ghosts." The set published by Sasaki Toyokichi, 1889 – 1892 (this being 1890). This seems to be the same subject Yoshitoshi used for his set Wakan hyaku monogatari but the names are altered.
Very fine first edition, fine colour and condition. Signed Yoshitoshi.
Status: Sold