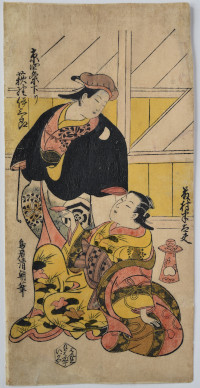 Click here to view image full size.
The actor Ogino Isaburo I looking down on the onnagata actor Fujimura Handayu II. An inscription above Ogino Isaburo states: Kyo Shijo kudari, "Coming from Shijo (Fourth Street) from the Capital." Indicating the actor was on tour in Edo. Kyoto was considered the capital at that time and the Kabuki theatre was located on Fourth Street in Kyoto. Published by Igaya Kan'emon (Bunkido) c mid 1720s.
Very good impression. Urushi beni-e with hand-applied colour: Tan, yellow, light and dark beni and blue. Lacquered sumi over an embossed pattern and gold powder. Some soil and expertly repaired wormage, otherwise very good condition. Signed Torii Kiyotomi hitsu.
Status: Sold