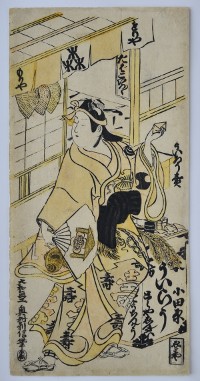 Click here to view image full size.
An hosoban showing a young actor in the role of a peddler of Chinese medicine, an Uiro, in a scene called Uiro-uri. This role is associated with the Danjuro line and Danjuro II did perform it more than once. Published c 1720 by Emiya. Rare.
Good impression. Coloured by hand: mustard yellow, yellow, gold powder and heavy sumi over an embossed pattern. Possibly some fading, otherwise very good condition. Signed Yamato gwako Okumura Toshinobu hitsu.
Status: Sold