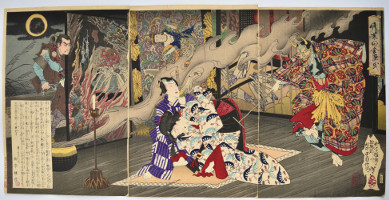 Click here to view image full size.
Nise Murasaki inaka Genji, "An Imposter Murasaki and a Rustic Genji." A triptych based on an involved story written by Ryutei Tanehiko in 1829 and based on the classic 11th century Tale of Genji. Shows Prince Genji with his lover Tasogare at an old temple. A demon appears pretending to be Genji's wife Futaba, but in reality is Tasogare's mother, Shinonome. Genji, discovering her true identity, reveals that his affair with her daughter is only in order to regain the family sword. Tasogare and her mother commit suicide due to the great shame. Published by Akiyama Buemon in 1884.
Fine impression, colour and condition. Signed Yoshitoshi sha.
Status: Sold