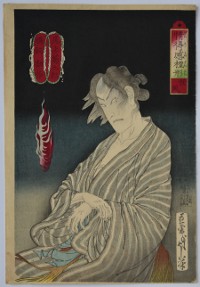 Click here to view image full size.
Strange Wind from a set of actor prints Seiu kandankei, "A Barometer of Emotions." A fine set published by Okura Magobei 1876-7. Shows Onoe Kikugoro V as the ghost of the cormorant fisherman Kansaku. He had poached fish from the sacred waters of the Isawa River and was caught and executed. His restless spirit caused Nichiren to pray for him and pacify the ghost. It was the subject of a famous play: Nichiren shonin minori no umi. Kikugoro was a personal friend of Yoshitoshi. One of Yoshitoshi's best actor prints.
Fine impression, colour and condition. Signed (in kana) Oju Yoshitoshi hitsu.
Status: Sold