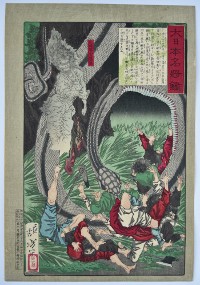 Click here to view image full size.
The serpent Tamichi attacking his enemies from a set of 51 prints Dai Nippon meisho kagami, "A Mirror of Famous Commanders of Great Japan." The set was published by Ebisuya Shoshichi (the first 11 prints) and Funazu Chujiro between 1878-1882. Like Abe no Hirafu, Tamichi was involved in the subjugation of the Emishi. He was killed by a poisoned arrow but was reincarnated as a giant snake to finally overcome his enemies. Published by Funazu Chujiro in 1880.
Fine, early impression with mica on the snake. Fine colour. Light album backing, otherwise fine condition. Signed Oju Yoshitoshi hitsu.
Status: Sold